Weekly global market focus
US/Chinese talks try to get on track
Q2 earnings expected to show a small decline
Weekly global market focus -- The U.S. markets this week will focus on (1) any developments on the US/Chinese trade front as the two sides have yet to formally resume talks as they circle each other on ag purchases and Huawei, (2) the G-7 meeting of finance ministers and central bank chiefs on Wednesday and Thursday near Paris, (3) any fine-tuning of Fed expectations as Fed Chair Powell speaks on Tuesday and as there are eight speaking engagements by other Fed officials during the week, (4) the beginning of Q2 earnings season with 56 of the S&P 500 companies scheduled to report this week, (5) the Treasury's auction of $14 billion of 10-year TIPS on Thursday, and (6) key U.S. economic reports that include Tuesday's June retail sales report (expected +0.1% after May's +0.5%), Tuesday's June manufacturing production report (expected +0.3% after May's +0.2%), and Friday's preliminary-July U.S. consumer sentiment index (expected +0.4 after June's -1.8).
Regarding U.S. politics, former Special Counsel Mueller's testimony before House committees has been postponed from this week until next Wednesday.  Separately, the markets will be watching to see if Congress, before its August recess, can approve spending bills for fiscal 2020 (which begins Oct 1) or at least a debt ceiling increase since the Treasury could hit its X-Day as soon as early September.  The House is scheduled to adjourn next Friday (July 26) and the Senate is scheduled to adjourn the following Friday (Aug 2), with the recess then lasting until September 9.  If Congress does not pass a debt ceiling increase in July before leaving for its August recess, there may not be enough time in September before the X-Date is hit and the Treasury begins defaulting on its financial obligations.
The markets this week will watch oil prices, which may fall back as oil rigs reopen in the Gulf of Mexico now that Hurricane Barry passed over the weekend.  Middle East tensions will remain high this week, although the UK has said it is willing to release the Iranian oil tanker that it recently seized as long as the oil does not go to Syria.  Iran last week tried to divert a UK oil tanker near the Straight of Hormuz but was stopped by a UK naval ship.
In Europe, the focus will remain on Brexit as the vote for the next UK Prime Minister concludes among Conservative Party members.  Boris Johnson has a virtual lock on that position with the official announcement coming next Tuesday (July 23).  Key UK economic reports this week include Tuesday's June employment data, Wednesday's June CPI (expected unchanged at +2.0% y/y) and Thursday's June retail sales (expected +2.6% y/y).  Other key European economic reports this week include (1) Tuesday's July German ZEW expectations index (expected -0.9 after June's -19.0), and (2) Wednesday's final-June Eurozone CPI (expected unrevised at +1.2% y/y headline and +1.1% core).
In Asia, the focus will be on the results of Sunday night's Chinese Q2 GDP report, which was expected to ease to +6.3% y/y from Q1's +6.4%.  Other data on Sunday night included China's June industrial production (expected +5.2% y/y vs May's +5.0%) and June retail sales (expected +8.5% y/y vs May's +8.6%).  The Japanese markets are closed today for a national holiday.  Key Japanese economic data this week includes Wednesday's June trade balance (June exports expected -5.4% y/y after May's -7.8%) and Thursday's June national CPI (expected unchanged from May at +0.7% y/y).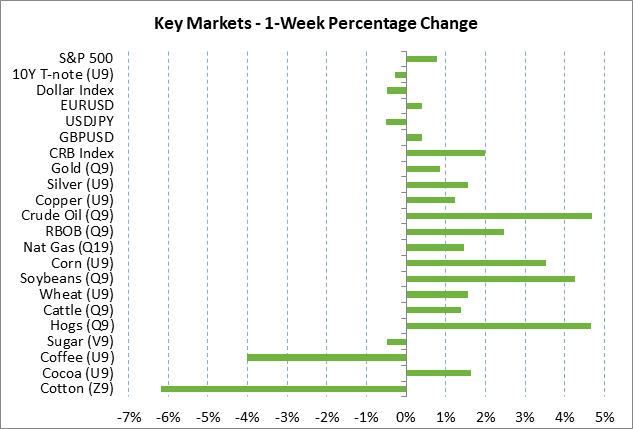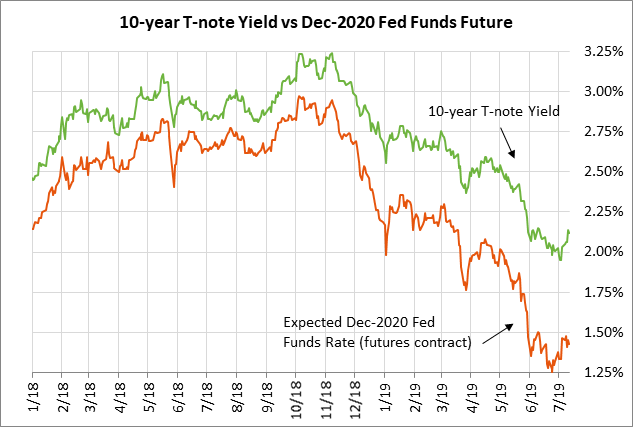 US/Chinese talks try to get on track -- The US/Chinese trade talks have yet to officially resume as the two sides argue over Huawei and agriculture purchases.  President Trump last Thursday tweeted, "China is letting us down in that they have not been buying the agricultural products from our great Farmers that they said they would.  Hopefully they will start soon!"  That tweet raised fears that Mr. Trump might already be growing impatient with the trade-talk process and might decide to move ahead with his threatened tariff on another $300 billion of Chinese goods.
China appears to be holding its ag purchases in reserve until it sees whether the U.S. will follow through on its promise to allow U.S. companies to start selling chips and other components to Huawei.  The Trump administration has said that Huawei will remain on the U.S. entity list and that U.S. companies will have to apply for licenses to export products to Huawei with the license review having a presumption of denial.
Top U.S. and Chinese officials held a telephone conference call last week, but there has been no word about when there might be a new round of face-to-face trade talks.  If there is no scheduling this week of a face-to-face meeting, then the markets might start getting cold feet about whether the US/Chinese trade talks will resume at all.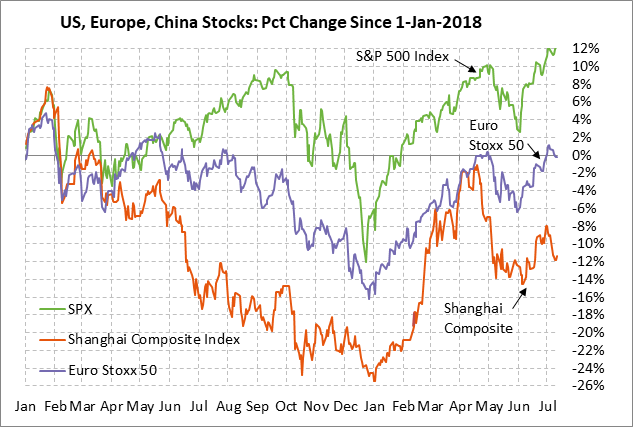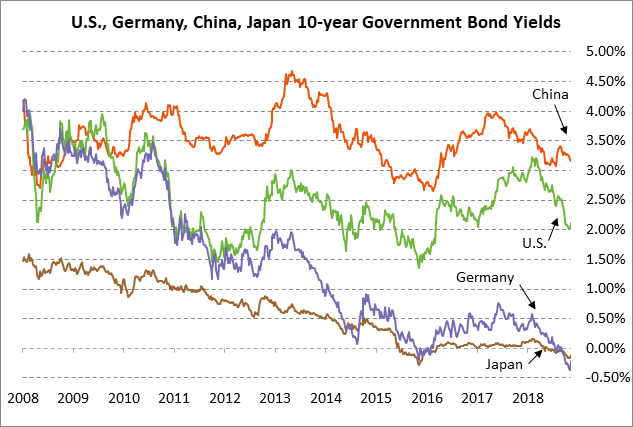 Q2 earnings expected to show a small decline -- There are 56 of the S&P 500 companies that report earnings this week.  Notable reports include Citigroup on Monday; Goldman Sachs and JPMorgan on Tuesday; Bank of America, eBay, IBM, Netflix, and Abbott Labs on Wednesday; Morgan Stanley and Microsoft on Thursday; and Blackrock and Amex on Friday.
The consensus is for Q2 SPX earnings of -0.4% y/y, which is weaker than expectations of +0.3% as of July 1 and +2.8% as of April 1.  Q2 is expected to be the second consecutive quarter of weak SPX earnings growth after Q1's poor pace of +0.4%.  Looking ahead, the consensus is for continued weak earnings growth in Q3 of +0.3% followed by an improvement to +6.8% in Q4.  On a calendar year basis, the consensus is for earnings growth of only +2.0% in 2019 followed by an improvement to +11.6% in 2020.  Earnings growth in 2019 is struggling due to a tough comparison after the stellar earnings growth of +22.7% in 2018 prompted by the massive 2018 tax cut.